[ad_1]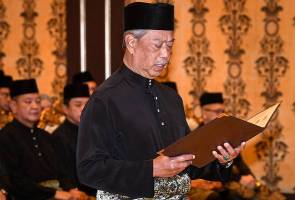 WHO will be the new members of the federal cabinet are still mysterious.
But clearly, as demanded by many, those "problematic politicians" who are being charged of corruption and abuse pf power cases in the courts must not be invited into the Tan Sri Muhyiddin Yassin-captained government under a new brand five-party coalition called Perikatan Nasional.
Earlier, before the once deputy prime minister was officially appointed to be the successor to Dr Mahahtir by His Majesty, the latter had proposed to form an "unity government" that was believed to line-up well-qualified individuals, including politicians whose credentials and previous contributions are applauded.
Unfortunately, the idea was opposed and lambasted as the idea of leading the so-called non-partisan or merit-based government would be unhealthy for the party-based democracy that has been traditionally practiced for many decades.
However, after the long-week unforgettable dramatic political conflict that broke-up Pakatan Harapan, the new prime minister, despite being detested by many, has been hopefully expected to lead an incorrupt government that will name no controversial politicians as a minister or deputy minister with prolific figures of various industrial backgrounds added into the future cabinet.
Plus, with the expectation and hope, I believe that many Malaysians will surely corroborate the to-be-formed cabinet if it can create a balanced affiliation between well-applauded politicians and credible professionals, especially ones with decades of experiences in healthcare and financial sectors.
As Covid-19 becomes more crucially invasive, it's advised that the vacant health minister should be instantly filled as the harmfully-infectious virus enters its second wave of invasion.
I am not sure who is credibly fit to supersede the well-liked and workaholic Dr Dzulkefli, but if there's no prolific elected parliamentarian from the ruling coalition who could be as good as the former medical sciences lecturer, a well-experienced doctor, who is politically-independent, should be the best candidate to be the next health minister.
Besides economic affairs, the health ministry is now an indispensable government portfolio that seriously needs a functional and hopeful figure, not a talk-more-do-less politician who loves to unashamedly proclaim, "this breakthrough won't exist without my round-the-clock commitment".
A successful delivery of a governmental execution is reflected by a close collaboration between a minister and his or her deputy.
And the new government that will be formed soon must be ready to be more collaboratively efficient with ministers and their deputies would not be in two different worlds with the old job habits of "you do your part, and I do mine."
If the Pakatan Nasional government really wishes to be liked and applauded, the traditional all-politician cabinet should be replaced by a professional-politician government.
It's time for our country and its politicians to be more sensitive and focused on realising a progressive national development that will be sustainably beneficial for the people's economic survival that seems to be feverish, especially since the Covid-19 hit the global.
Having a balanced professional-politician cabinet may not be pleasant to some senior politicians, especially those who are very ambitious about holding a certain ministerial position, but for the sake of reinvigorating this multiracial land, the "people's first" should be the mutual agenda of the PN government.
---
* Amerul Azry Abdul Aziz is an independent writer who now views politics as something that can be researched.
**The views and opinions expressed in this article are those of the author(s) and do not necessarily reflect the position of Astro AWANI.


[ad_2]
Source link