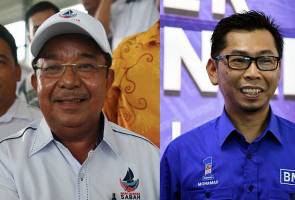 THE Kimanis by-election on 18 January will be a straight fight between the Barisan Nasional's (BN's) Mohamad Alamin and Parti Warisan Sabah's (Warisan's) Karim Bujang. The by-election was announced following a court ruling which disqualified Anifah Aman, who was the seat's member of parliament (MP) since 2004.
Though he is an established figure, his margin of victory in 2018 was razor-thin. Amidst allegations of electoral misconduct, he won by 156 votes or 0.62%. Anifah was formerly the Minister of Foreign Affairs under the Najib Razak administration, but he quit the United Malays National Organisation (UMNO) shortly after BN's 2018 loss.
The Kimanis by-election has been of keen interest. It follows BN's resounding victory in Tanjung Piai. BN also won the last four by-elections. Yet, the issues of concern in the Kimanis contest are highly local. Warisan also has the advantage of being a Sabah-based party. These raise important questions.
Will BN's by-election momentum and the generalised frustration towards the Pakatan Harapan (PH) government take it over the finish line? Or will Warisan be able to swing Kimanis? As optimistic as BN may wish to be, Warisan looks set to win comfortably.
Warisan going all out to win
Kimanis is a coastal rural seat comprising of slightly under 30,000 voters. Between 70% to 80% of voters are believed to be involved in the constituency's three major local economic activities: fishing, rubber tree tappers, and bird's nest harvesters. Warisan's campaign has targeted each of them.
The Warisan-run Sabah state government has drafted plans to increase the amount of money people in these industries can earn. Rubber tappers in Sabah currently receive more money per kilo of rubber sold compared to those in the Peninsular because the Warisan state government pays them a higher rate.
The Sabah state government also intends to provide licensing rights for Sabahans to export processed bird's nest, which could allow them to double their income. Currently, export licenses are predominantly available to companies in Peninsular Malaysia. This forces most Sabahans to sell at wholesale prices with margins. 
Similarly, the Warisan state government has claimed to have revoked deep-sea fishing licenses that the BN government had given to foreign fishing companies previously. This effectively removes foreign competition for fishermen in Kimanis.
The grandeur of Warisan's campaign is also important to note. The party has conducted numerous mega-events near polling stations it lost in 2018. The scale of the logistics and manpower required for these events suggests Warisan has invested significant resources to win over BN supporters. This is unsurprising. The fact that Warisan is in the state government has allowed it to replace Sabah BN's system of political patronage with its own.
Sabah UMNO: A shadow of its former self
Being in the opposition, BN has struggled to compete with Warisan's grand campaign. This is exasperated by the fact that Sabah UMNO became severely weakened following the 2018 election. Not only did the party's share of federal seats in Sabah fall from 14 to seven, six UMNO MPs quit the party. Anifah became an independent and the remaining joined Parti Pribumi Bersatu Malaysia (Bersatu).
While in the past UMNO's Sabahan machinery had the requisite numbers and resources to canvass for votes, this is not the case today. The importance of this cannot be understated. Having a formidable local grassroots presence is crucial to convincing voters that the party can credibly represent Sabahan interests.
Compared to Warisan, Sabah UMNO has struggled to fund canvassing activities. This has made it difficult for Sabah UMNO to travel across vast constituency and conduct large-scale events to engage with voters. Frustrated and short of funds, hundreds of Sabah UMNO's remaining grassroots appear to have quit and joined Warisan.
Consequently, BN is dependent on the UMNO machinery from Peninsular Malaysia. While UMNO can undoubtedly send sizeable numbers of grassroots activists to Sabah, it does not allow the party to position itself as concerned with Sabahan rights.
What's left for BN in Kimanis?
BN's best bet has been to keep the campaign focused on the contentious Sabah Temporary Pass (PSS) issue, which gives undocumented immigrants the right to reside in the state. Most of them are Tausug Muslims, a tribe originally from the Sulu archipelago in the Southern Philippines. This seems to have resonance with the Kadazandusun and Murut (KDM) communities, the non-Muslims indigenous to Sabah.
The KDMs comprise roughly 30% of voters in Kimanis. 67% are Muslims from various tribes and 3% are Chinese. The KDMs generally believe that granting PSS to Southern Filipinos will eventually lead them to becoming citizens. The KDMs fear that once this happens, their access to indigenous will be undermined.
Jeffrey Kitingan, the leader of Parti Solidariti Tanah Airku Rakyat Sabah (STAR), and Anifah have been giving BN the local credibility necessary to criticise Warisan on the PSS issue. This might allow BN to split the KDM vote in half. However, it's proportion of support among indigenous Muslims is slated to fall because of Warisan's election strategies.
BN has also kept attention on Warisan's association with the increasingly unpopular PH government. This has forced Warisan to distance itself from PH. Indeed, the Warisan grassroots are believed to be criticising PH to position the party as a Sabah-based one which would support any government of the day. 
In spite of BN's attempts, the election outcome will likely rest on local bread-and-butter concerns. Warisan is well placed to distribute government resources and patronage to the local Kimanis economy. And this should be enough for Warisan to secure a comfortable win on January 18.
---
* Rahman Hussin is the founder and CEO of RNA Consulting, a government affairs firm in Singapore.
**The views and opinions expressed in this article are those of the author(s) and do not necessarily reflect the position of Astro AWANI.