[ad_1]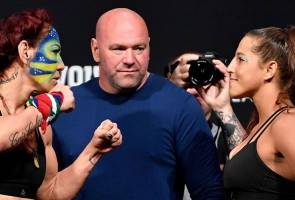 KUALA LUMPUR
: UFC women's featherweight champion Cris Cyborg is set to face her opponent Felicia Spencer in the co-main event of UFC 240 in Edmonton, Canada this Saturday.
Speaking to Astro AWANI, the Brazilian described her upcoming bout against the Canadian could end up being both a striking match as well as a grappling match.
"I think for any fight I always prepare for everything. You know, it's MMA match, it can be ground, it can be strike," she said.
Asked on her preparations for this featherweight contest, Cyborg, said she feels great and ready for the fight.
"I feel great and ready. My focus now is Spencer, you know, I do my best I can and I train really hard. After that, let's see what happens," said the 34-year-old contender.
Meanwhile, Spencer described winning against Cyborg would be a huge deal for her as she regards her opponent as a legend in mixed martial arts (MMA).
"It means I have a win over a legend in the sport – it's a huge deal. The only thing that make sense after a win over Cyborg is to get a title shot.
"I think she's a legend and someone I had looked up to, but also had known for years,that I really want to fight her. And I hoped that I would be the one to take her out. At this point, just a win is good with me," she said.
Commenting on her fight camp, Spencer said the only thing different in this camp was that she was coming off another fight camp almost immediately.
"I've never underestimated an opponent, so I've always done a 100 percent of everything I could do, to be the best version of myself, so there's not much different mentality going into this camp.
"I still have the same great team behind me and everything else is business as usual," she said.


[ad_2]
Source link