[ad_1]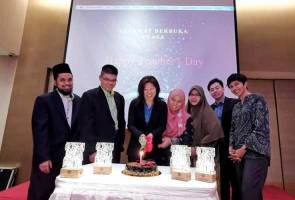 THE recent survey by The Edge on the Malaysian ministries performance did certainly raised a doubt in all of us; can Malaysia ever make huge strides through education? This article isn't going to give you an answer to that. In fact, by the end of this article you might be able to reason it out yourself. 
We are constantly benchmarking our education system with Finland's and some other countries. But have we ever get down and deep into the urban, rural and isolated schools in every corner of this country? Have we ever looked at not just the education but the educators who play the most important role in molding the generation? To most of us, teaching is an easy profession. Teachers enjoy school holidays. Teachers don't have to deal with grumpy bosses or crabby clients. Teachers get flowers on Teacher's day.
What we seldom forget is the sacrifices a teacher makes. Teachers are behind each one of us for our successes. They are the most important piece of puzzle in our early life to complete us. Any success stories of schools and student's achievements get thousands of 'Likes' and hundreds of 'shares' but the teachers behind the success stories remain off screen. Simply because, our teachers rarely share their stories. Here are the snippets from our five #CikguJuaraDigital.
———–
Cikgu Liong from SMK Lanang, Sarawak who is our #CikguJuaraDigital nominees, let his gaze aimlessly faraway when asked about how he manages his career and personal life. "Looking back at my teaching life; It hits me a little hard that I feel sorry for my 9 years old daughter and my wife whenever I look at the expired passport which was never been used… I spent most of time at school with students, even weekends. I should really start focusing at the remnant of my fatherhood'. Nevertheless, he is so proud of his students and never think twice for going extra mile for them!
Cikgu Husna from SMK Bentong, Pahang smiled wide when asked what's the biggest challenge you faced while teaching the kids digital making at school. "We do not even have proper computers with good specification in school and 3 of our students were selected for a Malaysian Computing Olympiad Training Camp at Universiti Tunku Abdul Rahman Kampus Sungai Long for 3 days. We managed to collect some cash which could allow only one student for the camp. Thus, myself with some help from my family, sponsor the other 2 students for all their logistics, accommodation and miscellaneous."
Cikgu Wan Azrina from SMK Kubang Kerian, Kelantan, a Microsoft Innovative Educator Expert is our nominee #CikguJuaraDigital who has designed a lesson plan for her students to solve sustainability challenges. As she began her career as ICT Coordinator in her school 10 years ago, she realized she must bring the ICT department to live as her school computer lab occupied by none but cold emptiness. Pushing herself beyond what she was hired for, Cikgu Wan Azrina conducted survey among teachers and students on their ICT knowledge. She began carving a pathway for ICT and in 5 years she has developed a team of ICT specialist consist of teachers and students of SMK Kubang Kerian. "I remember at that time, I stopped going out with friends because my date with ICT Modules became more important. It's not easy to make them understand as they were not teachers but alhamdulillah somehow we are still friends" she smiled wide.
 "I was making a pretty good income in my part time business as a Banner and Brochure designer. And I closed it down one day for good, without hesitation when I realized my students need me more. When you see the radiance on students face after they successfully made a robot move or spot an error in coding and fix the bug, that's the true contentment!" exclaimed Ustaz Huszaruddin from SK Felda Lok Heng Selatan, Johor who won 'Guru Inspirasi 1Bestarinet Teacher Awards' in 2017. As tuition providers, these days making decent income, Ustaz who bike commuting daily to school, is more than happy to give free digital making classes and workshops for his students.
Cikgu Lawrence from SK (C) Anglo Chinese, Sabah is one of the few teachers who sees students as his own children. This young-looking teacher who stays all alone in Sabah leaving his family in west Malaysia, went beyond and foster a student who was having discipline issues and lack of care and attention from his own adopted parents. The student (whom Cikgu Lawrence lovingly refers as his son) stayed with him for nearly a year and received all the love, attention and guidance from the fatherly figure, teacher.
These days, our social media posts are all about fine dine pictures and vacation videos while these teachers' social pages overwhelmed with their teaching life stories which we casually skip simply because they are least of our interest. When was the last time we call and thank our teachers?
Success and failure both leave room for improvement. If we regard our education system is a failure, there are some pockets of success. It's a challenge that needs to be embraced and to learn from the result. And these Teacher Heroes most definitely are embracing it; transforming education towards the future. It's time to share the stories of the real digital makers who have sacrificed their dreams. They simply walk the talk. 
Come and get up close with our #CikguJuaraDigital at the #mydigitalmakerfair 2019, 14-15th September at MITEC, Kuala Lumpur.
Get your tickets now: https://www.ticket2u.com.my/event/14478?r=whatsapp
For more info: https://mydigitalmakerfair.com
"Be a dreamer, be a maker"


[ad_2]
Source link