[ad_1]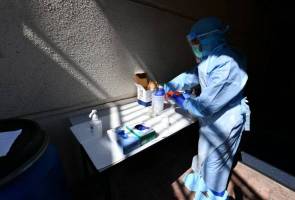 KUALA LUMPUR
: Amidst allegations of Malaysian authorities mistreating foreigners during the COVID-19 Movement Control Order (MCO), some foreigners are seeing the positive side of things and have commended the authorities' response to curb the deadly virus.
One of them, is online entrepreneur and YouTuber from United Kingdom (UK), Darren Cronian took to his channel (Remote Darren) to comment on the initiatives of Malaysia and the government in tackling the crisis.
In an eight-minute video he uploaded, Cronian shared his side of the story whilst being stranded in Malaysia for almost 11 weeks, alone in his apartment to deal with the pandemic in a foreign country.
Cronian's video has raked up close to 13,000 views in six hours since he uploaded it on YouTube. His video was also shared by Health director-general Datuk Dr Noor Hisham Abdullah on Facebook today.
According to the 46-year-old Englishman, he was impressed with the way local authorities handled the situation by implementing the MCO throughout different states and minimalising people's movement.
"When I saw Malaysia jumping into action, while the UK was still opened for business, I made a decision that I must be strong myself (committed) to stay here to see it through however long it would take.
"I have to say I am incredibly impressed with how Malaysia is handling COVID-19 as they jumped straight into the action with the MCO, making sure people weren't moving around and you can only go for food and essentials," he said.
Cronian admitted it was not nice to see the images of some neighbourhoods surrounded by barb wires but it needed to be done, as Malaysia had good leadership and the Ministry of Health (MOH) had approached the problem extremely well.
He said that he did not pay much attention to the political or religious side but had kept a positive mind and felt what Malaysia had done, was a model that should be followed by the rest of the world.
"How Malaysia dealt with this pandemic is amazing, while quarantined for 11 weeks, I was shadowboxing to Rocky's theme tune, I was weightlifting using water bottles and I spent a lot of time looking out of the window," he said.
He also said that the loneliness and quietness in his apartment had started to drive him mad but he was thankful for the people in Malaysia who contacted him and asking him how he was doing or whether he needed anything, and this made him feel much better that he had people looking out for him.
Apart from that, Cronian said when he went to the Immigration office to extend his visa and found it closed, he then realised that people in this country took this pandemic very seriously.
"The people of this country are part of the reason why this pandemic hasn't been as bad as it been in other countries around the world.
"When you look at the figures so far compared with UK or other European countries, a lot of it has to do with the people's cooperation. Just by staying at home, people are in lockdown, thanks to everyone here, it could've been so much worse," he said.
Cronian ended his video by thanking Malaysia for looking out for him and providing him a safe home, and he especially appreciated Malaysians who kept in touch with him throughout the past 11 weeks under lockdown.
— BERNAMA


[ad_2]
Source link