[ad_1]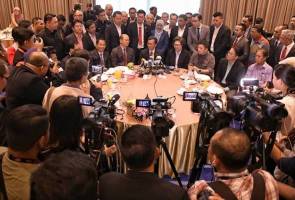 KOTA KINABALU
: "I hope he understands. I don't wish to go against him, in fact we're old friends."
That was the response of Sabah Chief Minister Datuk Seri Mohd Shafie Apdal when asked about his relationship with Prime Minister Tan Sri Muhyiddin Yassin.
Mohd Shafie told a press conference at the Sabah State Development Office here today that he was consistent with his stand in supporting Tun Dr Mahathir Mohamad.
He added that his stand of not supporting Muhyiddin was also not personal in nature.
READ: Sabah remains an opposition state government – Shafie Apdal
He even gave the example when Datuk Seri Najib Tun Razak became Prime Minister and he (Shafie) expressed his support for Tun Dr Mahathir.
"I used to tell Najib that I support Tun Dr Mahathir even though Najib is my friend.
"As politicians we need to be clear with our stance. Not only that, we need to focus on developing the people and the state," he said after meeting 42 State Assemblymen and 14 MPs from the Sabah state bloc at a special briefing at the Sabah State Administrative Center (PPNS) here this afternoon.
Shafie further said he could not be influenced with what was happening in the Peninsula because he needed to focus on the people and the state.


[ad_2]
Source link