[ad_1]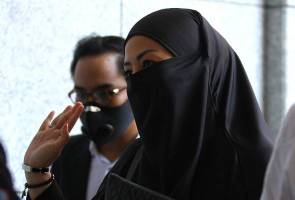 PUTRAJAYA
: The Chief Registrar's Office of the Federal Court (PKPMP) today said there were no restrictions for media representatives to cover the case involving Datuk Nurulhidayah Ahmad Zahid and her husband in the Magistrates' Court yesterday.
According to a statement issued by the office, there were other cases also scheduled at the court where the couple's hearing over a violation of the Movement Control Order (MCO) was being held, and this had caused a large crowd to gather, making it difficult to implement social distancing measures.
The court then ordered the public in the court to leave to ensure compliance with the guidelines issued by the Ministry of Health (MOH), the statement said, adding that the court was unaware of the presence of media personnel covering the case at the time.
"Therefore, there is no issue of media personnel being barred from doing their coverage.
"The court always ensures that access to justice is implemented for all parties, including the media," it said.
Yesterday, media personnel covering the case of UMNO president Datuk Seri Dr Ahmad Zahid Hamidi's daughter and son-in-law claimed they were barred from entering the courtroom to listen to the proceedings.
Details of the proceedings were later obtained from the deputy prosecutor and defence counsel.
Nurulhidayah, 41, and her husband Datuk Saiful Nizam Yusoff, 49, were each fined RM800 after they pleaded guilty to violating the MCO on April 20.
Meanwhile, with regards to the sentence imposed by the Magistrate's Court on B. Lisa Christina, the PKPMP said the High Court had exercised its powers and reviewed it by replacing the jail sentence with a fine.
According to media reports, Lisa Christina, a single mother, lamented the court's decision of imposing only an RM800 fine against Ahmad Zahid's daughter and son-in-law.
Lisa Christina was initially sentenced to a 30-day jail term by the Petaling Jaya Magistrate's Court for violating the MCO on April 21, but a week later, the Shah Alam High Court allowed the woman's application for review and dismissed the jail sentence, replacing it with an RM1,000 fine.
— BERNAMA


[ad_2]
Source link