[ad_1]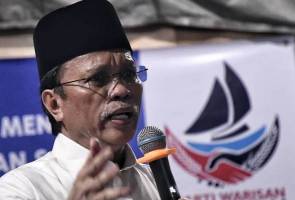 KUALA LUMPUR
: The Democratic Action Party (DAP) and Parti Amanah Negara (Amanah) considers the nomination of Datuk Seri Mohd Shafie Apdal for prime minister as the new option to restore the people's mandate to Pakatan Harapan.
In a statement signed by Amanah president Mohamad Sabu and DAP secretary-general Lim Guan Eng, they said it was a new option to bring Putrajaya back to the coalition of Pakatan Harapan and Warisan as achieved in the 14th General Election (GE14).
However, they said the proposal would need to be discussed at the Amanah and DAP central leadership level first.
"It will then be taken to the Pakatan Harapan Presidential Council meeting to be decided together," they added.
Former Prime Minister Tun Dr Mahathir Mohamad today revealed that the proposal to nominate Warisan president Datuk Seri Mohd Shafie Apdal had also been agreed to by other Pakatan Harapan senior leaders.
In his official Facebook post today, Dr Mahathir said the agreement was reached in an informal discussion at the Sabah Guest House, Kuala Lumpur, on June 25 between Shafie, Amanah president Mohamad Sabu, DAP chairman Tan Kok Wai and secretary-general Lim Guan Eng.
In addition, he said they had also agreed to nominate PKR president Datuk Seri Anwar Ibrahim as Deputy Prime Minister 1 and Datuk Seri Mukhriz Mahathir as Deputy Prime Minister 2.


[ad_2]
Source link