[ad_1]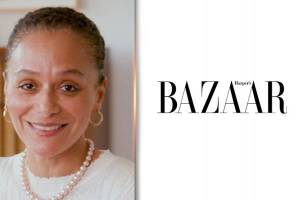 FOR the most part, 2020 has been particularly challenging as the world is swept by COVID-19, the deadly pandemic where hundreds of thousands of lives are affected.
But, 2020 has also proven to be a year change takes place.
The world too, is gradually witnessing the progress in operations and wider representations of gender, cultural and racial diversity. 
READ: 'Bon Appetit' editor-in-chief steps down after 'brown face' controversy
The US Harper's Bazaar has recently named Samira Nasr as its Editor-in-Chief. Nasr will begin her duty on July 6 where she will be overseeing content strategy and development across the brand's print and digital platforms.
The announcement was made by Hearst Magazines President and Chief Executive Officer, Steven R. Swartz and Hearst Magazines President, Troy Young.
Nasr has previously worked as an executive fashion director at Vanity Fair, a magazine under Condé Nast publications, where she managed and directed the magazine's fashion department and fashion content.
She was also involved in styling iconic covers such as the 25th annual Hollywood issue, the spring style issue featuring cover star Lupita Nyong'o.
She was a style director for InStyle and has also enjoyed style campaigns for fashion and beauty brands including Laura Mercier, Tiffany & Co., Tory Burch, Estée Lauder, L'Oréal, Clarins, and more.
"As a proud daughter of a Lebanese father and a Trinidadian mother, my world view is expansive and is anchored in the belief that representation matters," she said in a video posted by Harper's Bazaar on Instagram today.
"My lens by nature is colourful. It's important to me to begin a new chapter in Bazaar's history by shining a light on all individuals who I believe are the inspiring voices of our time," she added.
Nasr will be the first black editor-in-chief in the history of the 153-year-old publication and will be replacing former editor-in-chief, Glenda Bailey who resigned in January after 19 years at the helm and remains as a consultant to the brand.
Nasr also took the opportunity to thank the protestors, community organizers and activists currently involved in the Black Lives Matter movement and said, "I hope we can join forces to amplify the message of equality because Black lives matter."
Born in Montreal, Canada, Nasr currently resides in Brooklyn, New York with her son.
According to an article by Harper's Bazaar, Nasr began her career in fashion working as an assistant to Grace Coddington, former creative director of Vogue, after earning a graduate degree in journalism at New York University.


[ad_2]
Source link