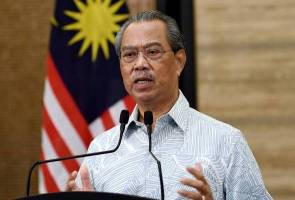 KUALA LUMPUR
: A Barisan Nasional (BN) victory in the Chini by-election will signal to all Malaysians the ability of the Perikatan Nasional (PN) as a coalition of political parties to work together to fulfil the people's and national agenda.
President and Acting Chairman of Parti Pribumi Bersatu Malaysia (Bersatu), Tan Sri Muhyiddin Yassin, said the entire machinery and the party's grassroots in Pekan were mobilized to ensure the victory of BN candidate Mohd Shahrim Md. Zain.
He said the campaign movement to ensure BN's victory was strengthened with the presence of Bersatu leaders from around the country.
"The oneness and maturity of the Perikatan Nasional parties to campaign and share the political stage in the Chini by-election is a historic step towards forming this coalition into a strong and solid political coalition," he said in a statement on Tuesday.
In order to secure the BN victory, Muhyiddin called on 20,990 registered voters in DUN Chini to come out and give Mohd Shahrim solid support.
"Your choice will not only determine the development and future of Chini but will open a new chapter to the political direction at the national level," he added.
Apart from Mohd Shahrim, two independent candidates Tengku Datuk Zainul Hisham Tengku Hussin, 64, and Mohd Shukri Mohd Ramli, 49 also contested in the DUN Chini by-election.
The electoral roll for the DUN Chini by-election consists of 20,990 voters, with of 20,972 ordinary voters and 18 early voters.
It is the first by-election after the Movement Control (MCO) came into force on March 18.