[ad_1]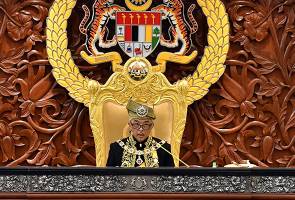 KUALA LUMPUR
: Many Members of Parliament and senators viewed the Royal Address by the Yang di-Pertuan Agong Al-Sultan Abdullah Al-Mustafa Billah Shah when opening the third session of the 14th Parliament today as enlightening and full of wisdom.
His Majesty's call on politicians not to drag the country into political turmoil while the people are facing hardship due to the COVID-19 pandemic was seen as having a calming effect on the current political situation.
Communications and Multimedia Minister Datuk Saifuddin Abdullah said it was normal to have differences of opinion in politics but there must be limits.
He said politicians must address those differences professionally and with maturity.
"This is so that it will not lead to disunity but will be an arena for the convergence of good ideas for us to evaluate and pick the best for formulating policies and programmes," he said when met at the Parliament lobby.
Minister in the Prime Minister's Department (Religious Affairs) Datuk Seri Dr Zulkifli Mohd Al-Bakri said His Majesty's statement was very significant and wise, especially on political matters.
"The King's address also brought back the eastern culture of politeness which can be adapted by the members of the house," he said.
Deputy Foreign Minister and Bandar Tun Razak MP Datuk Kamaruddin Jaafar and Pokok Sena MP Mahfuz Omar shared the view that all politicians must reflect on what His Majesty has conveyed and avoid creating another political turmoil.
"Instead, we must prioritise the people and the country," said Kamaruddin.
Minister in the Prime Minister's Department (Special Functions) Datuk Seri Mohd Redzuan Md Yusof said all MPs must conform to what His Majesty has said, stressing that the prime minister was properly appointed to the post with majority support from MPs.
"There's no need to create any more chaos. The prime minister's appointment was made by the King. We don't need to ask the prime minister to step down," said the Alor Gajah MP.
Meanwhile, Segambut MP Hannah Yeoh was glad that the frontliners fighting the COVID-19 pandemic were given a standing ovation in the august house this morning.
"I am also glad to hear the King put emphasis on corruption issues and remind everyone to practise integrity and good governance," she said via Whatsapp.
Johor Bahru MP and PKR Youth chief Akmal Nasrullah Mohd Nasir said the Royal Address should be debated whether from the perspective of policy, implementation or feedback.
"Although the session had been shortened, I will make sure the voice of the younger generation will be heard in the next sitting," he said.
— BERNAMA


[ad_2]
Source link