[ad_1]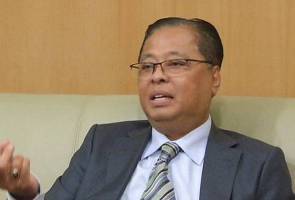 KUALA LUMPUR
: Datuk Seri Ismail Sabri Yaakob, who was today appointed Senior Minister-Defence Minister, has extensive experience in government administration, having held various ministerial posts.
The UMNO vice-president was in the Cabinet from 2008-2018, heading the Youth and Sports, Domestic Trade and Consumer Affairs, Agriculture and Agro-based Industry as well as the Rural and Regional Development ministries.
One of the notable initiatives he undertook as the Agriculture and Agro-based Industry Minister was to get rid of middlemen who profited from the hard work of farmers and fishermen.
The Bera Member of Parliament also introduced the MARA Digital initiative so that Bumiputeras in business would not be left behind in information and communication technology when he was the Rural and Regional Development Minister.
Ismail Sabri, 60, who holds a Law degree from Universiti Malaya, began his career as a lawyer in 1985 and previously served as directors of the Pahang Tenggara Development Authority (DARA) and Malaysian Tourism Promotion Board.
Born in Temerloh, Pahang, he began to be actively involved in politics in 1987 as a committee member of the Temerloh UMNO division before being made the division's information chief the following year.
When he became the head of Temerloh UMNO division in 2004, his political career continued to grow and he was elected UMNO vice-president in 2018 as well as made the opposition leader in Parliament following the defeat of Barisan Nasional (BN) in the 14th General Election in May that year.
READ: No need for DPM – Muhyiddin 
READ: Muhyiddin presents Cabinet line-up, no DPM, 4 senior Ministers 
Ismail Sabri's biography:
Name: Datuk Seri Ismail Sabri Yaakob
Wife: Datin Sri Muhaini Zainal Abidin
Date of birth: 18/01/1960
Place of birth: Temerloh, Pahang
Children's names:
1. Nina Sabrina
2. Gadaffi
3. Nashriq
4. Iqbal
Education:
Bachelor of Laws (LLB) from Universiti Malaya (UM)
Career:
1985: Lawyer
1995: Director of Pahang Tenggara Development Authority (DARA), Director of Malaysian Tourism Promotion Board
1996: Chairman of National Sports Complex, Bukit Jalil
2008 – 2009: Youth and Sports Minister
2009 – 2013: Domestic Trade and Consumer Affairs Minister
2013 – 2015: Agriculture and Agro-based Industry Minister
2015 – 2018: Rural and Regional Development Minister
Politics:
Head of Temerloh UMNO division since 2004
UMNO Vice-president
— BERNAMA


[ad_2]
Source link