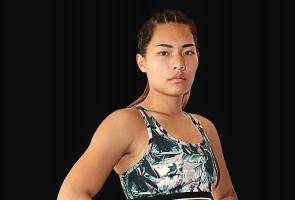 INDIA's Asha "Knockout Queen" Roka might have it all to do against Stamp Fairtex in her ONE Championship debut at ONE: DREAMS OF GOLD in Bangkok, Thailand on Friday, 16 August.
Her striking will be put to test against the two-sport ONE World Champion. But the Indian national boxing champion is confident of her chances as she boasts a perfect 4-0 slate in her mixed martial arts career.
Still only 20, the Bhopal native has come a long way in her martial arts journey that begun with boxing while she was only 11 years old.
"I always liked martial arts. I wanted to go for wushu, but one of the boxing coaches invited me to train because he saw something in me," she recalled.
"I was able to do pretty well on the first day of my training, so the coach invited me there for practice, and that's when my boxing career started."
Roka's boxing dream kicked off unexpectedly, and unlike some, she received instant support from her family.
"I had very good support from my family because my father always liked sports," the Positron Gym representative said.
"My brother went for boxing, and one day, I went with him to the academy just casually to explore and to know what martial arts is. I saw that a lot of girls and boys were doing boxing practice together. I felt this was very attractive and very unique, so I decided to join."
Her immense techniques saw her earn a chance to join her state's boxing squad – the start of a long list of triumphs for the "Knockout Queen."
Roka raked up several local, national, and international titles, which included a bronze medal in the World Championships in Bulgaria in 2013.
"I won a gold medal in my first international competition, then the biggest of all in the World Championships."
"For us, this is very important, and winning a medal in the World Championships is a very big thing. I was the only athlete from India to win a medal. It was a very proud moment for me."
However, boxing was then banned for three years in India, and it ultimately derailed Roka's boxing quest. Not wanting to quit, Roka packed her bags and moved to Delhi to train mixed martial arts – some 700 kilometers away from home.
That marked the beginning of her mixed martial arts career, and Roka has now finished all four of her rivals in less than five minutes combined. The Indian martial artist will now have her eyes on a fifth-career win when she takes on Stamp in Thailand.
"I feel very proud that a female Indian fighter has got a chance to fight on such a big platform and against an extremely good fighter," she said.
"I will showcase my skills to the whole world and prove to other nations that Indian fighters are no less than others."
For more martial arts action, be sure to watch ONE Championship's next event ONE: DREAMS OF GOLD.