[ad_1]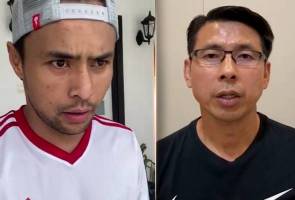 KUALA LUMPUR
: Several players of the Harimau Malaya national football team have joined the chorus in appealing to the public to stay home during the two-week period of the Movement Control Order to break the chain of infection of COVID-19.
On seeing there were still people who were defying the order, the national footballers took the initiative to make a brief video in urging Malaysians to comply with the restricted movement directives.
Harimau Malaya defender and captain, Mohd Aidil Zafuan Abdul Radzak, in the video called on all football fans and Malaysians to stay home.
"To all Malaysian football supporters, I would like to urge all of you to stay home and strictly follow the instructions of the government.
"Let's work together to combat the COVID-19 virus," he said in the video posted on the official Football Association of Malaysia (FAM) Facebook page.
Besides Aidil Zafuan, the video also featured messages from goalkeeper Farizal Marlias, forward Norshahrul Idlan Talaha, midfielder Danial Amier Norhisham and national head coach Tan Cheng Hoe.
On Monday, Prime Minister Tan Sri Muhyiddin Yassin announced a nationwide restricted movement order from Wednesday until March 31, 2020 to deal with the spike in COVID-19 cases.
He again appealed on Wednesday as many Malaysians were taking advantage of the two-week period like a holiday and hordes of people used the school break to go back to their kampungs, thus defying the directives of the order to stay home.


[ad_2]
Source link