[ad_1]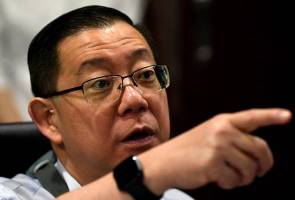 KUALA LUMPUR
: An UMNO Youth leader is to face legal action over the spread of fake news involving DAP Secretary-General, Lim Guan Eng, and his son.
In a statement today, Guan Eng said some Barisan Nasional (BN) and Pas supporters would also face similar action.
"An UMNO Youth leader going by the name 'Papa Azri' had started spreading this lie saying I flew to Singapore on February 29 after my son was arrested at the Singapore Airport for carrying cash amounting to RM2 million without making a proper declaration," he said.
According to Guan Eng, the news spread quickly among BN and UMNO supporters.
In fact, he said, the Media Chinese International Limited (MCIL) was also involved in spreading the news.
The former Finance Minister claimed that the spread of the news was aimed at defaming the Pakatan Harapan (PH) leaders.
"The Inspector-General of Police has already denied these two reports as not correct.
"On February 29, I was in Kuala Lumpur all day in an attempt to defend the democratically elected government and the people's mandate given in the 2018 General Elections.
"I hope the police can take stern action and detain the person who had spread this false news that has hurt an innocent individual, to protect all Malaysians," he added.
The former Penang Chief Minister claimed that this was not the first time his son was targeted by 'Papa Azri'.
"Before this, he had made an accusation that my son had sexually harassed his classmate, with a picture of the alleged 'victim' of the attack." It was actually a picture of a chess champion from Hong Kong who had never met my son," he said.
On Saturday, IGP Tan Sri Abdul Hamid Bador denied news reports that the son of a senior political party leader was arrested in Singapore for bringing in RM2 million into the republic without declaring it.


[ad_2]
Source link