[ad_1]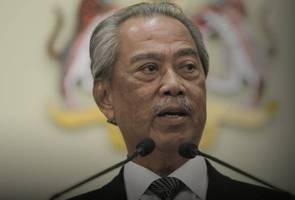 PUTRAJAYA
: The government will ensure the implementation of RM2 billion worth of small projects announced in the 2020 Economic Stimulus Package (PRE2020) to start next month, said Prime Minister Tan Sri Muhyiddin Yassin.
The implementation of the projects will be monitored by the chief secretary to the government Datuk Seri Mohd Zuki Ali and its weekly report handed to him, he said.
"The projects will focus on rural infrastructure development and it will be implemented by small Bumiputera contractors.
"The Finance Ministry has issued a Circular effective March 16, 2020 to raise the ceiling of the vote from RM50,000 to RM100,000 and the quotation from RM500,000 to RM800,000," he told a press conference after chairing the first meeting of the Economic Action Council (MTEN), here today.
Muhyiddin also said the government would continue the implementation of all projects allocated in Budget 2020 including the East Coast Rail Link (ECRL), Mass Rail Transit 2 and the National Fiberisation and Connectivity Plan (NFCP).
Meanwhile, the Prime Minister also said the government would strengthen the function and structure of the EAC to ensure sustainable domestic economic growth as well as in increasing the confidence of domestic and foreign investors.
He also outlined the main functions of the EAC — to identify current economic issues and takes action to ensure the economy remains sustainable as well as mitigating the impact of global economic uncertainty.
EAC will also identify issues and problems that inhibit economic growth and device remedial measures to stimulate economic growth.
Other functions of the EAC includes formulating short and medium-term action plans to stimulate economic growth, increasing foreign and domestic investment as well as determining socio-economic development for the well-being of the people.
It will also ensure decisions made by the EAC are implemented promptly.
"The EAC will be assisted by an officers level committee, a technical committee and several working groups. The Prime Minister will chair the highest level committee," he said.
He said the Finance Ministry, the Economic Planning Unit and the Prime Minister's Department would be the joint secretariat of the EAC, becoming the focal point to coordinate relevant discussions and to monitor decisions made by the council.
"A communication team will be set up under this joint secretariat to coordinate all announcement and to manage the information flow about EAC. The joint secretariat will be headed by an executive chairman.
"EAC will hold a meeting once in a week to discuss current economic issues and oversee proposals which needed urgent decision in order to stimulate the domestic growth," added Muhyiddin.
— BERNAMA


[ad_2]
Source link