[ad_1]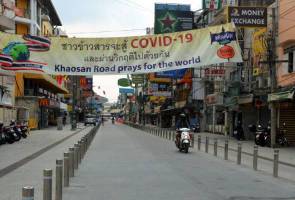 HANOI
: An expert from the Thai Ministry of Public Health's Preventive Medicine, Department of Disease Control Dr. Anupong Sujariyakul said on Wednesday, the first wave of the COVID-19 outbreak in Thailand has come to an end after the country has not seen any new local COVID-19 case for 44 consecutive days.
However, he warned the Thais to be prepared for the second wave of infections, as the contagion is still spreading in many parts of the world, with several countries already experiencing a second wave, Vietnam News Agency (VNA) reported.
He called on people to stay vigilant at all times by wearing masks, adhering to social distancing and do regular hand cleaning.
Thailand on Wednesday reported three new imported COVID-19 cases. They are Thai citizens returning from abroad and in quarantine. No new fatalities were reported.
To date, the country recorded 3,197 COVID-19 cases, with 3,074 recoveries and 58 deaths. Meanwhile, 65 others are still being treated in hospital.
— BERNAMA


[ad_2]
Source link