[ad_1]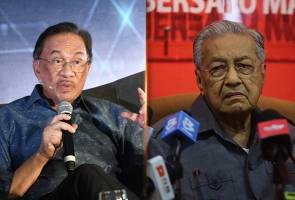 KUALA LUMPUR
: Tun Dr Mahathir Mohamad has decided to cooperate only with Amanah and DAP and will no longer be a member of Pakatan Harapan (PH) Plus,
Sin Chew Daily
reported.
The decision was made after Parti Keadilan Rakyat (PKR) leader Datuk Seri Anwar Ibrahim rejected the proposal to nominate Dr Mahathir as PH's prime ministerial candidate.
Dr Mahathir, who is also the Langkawi MP was commenting on whether he would cooperate with Anwar after PKR firmly rejected the proposal to name Dr Mahathir as prime minister.
"I will not cooperate with Anwar Ibrahim because he does not want to work with me. I need to find another way to become Prime Minister.
"There may be other ways," Dr Mahathir said in an online interview with Sin Chew Daily on Tuesday.
Dr Mahathir's nomination as Prime Minister if PH Plus succeeded in forming the government again was supported by Warisan and the Bersatu MPs who supported him.
Dr Mahathir said he would continue to work with Amanah and DAP because the two parties have realized the need to have a Malay-based party.
He said he had no qualms to leave PH but would continue to work with Amanah and DAP.
"They have been opposition parties for a long time. They tried to win in 2008 and 2013 before I joined them but they lost and couldn't win. So, in GE14 I joined them.
"They know they need the Malay votes to win and they think I can bring the Malay votes as the major party is a party of the Malays and the rest are multi-racial parties. The Malays will not support a multiracial party," he said.
PH is in the throes following PKR's decision to nominate Anwar as a prime ministerial candidate while DAP and Amanah were more inclined to support Dr Mahathir.
The reason given by the DAP and Amanah was that Dr Mahathir was able to draw the support of other MPs while Anwar failed to obtain it despite being given ample time.


[ad_2]
Source link