[ad_1]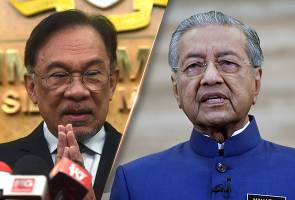 KUALA LUMPUR
: Parti Keadilan Rakyat (PKR) allies in Pakatan Harapan (PH), DAP and Amanah want the party to return to the second option that was agreed at a meeting of the PH Presidential Council on May 30.
According to the DAP and Amanah, the meeting chaired by Datuk Seri Anwar Ibrahim on May 30 had agreed with the second option of nominating Tun Dr Mahathir Mohamad as prime minister and Anwar as deputy prime minister.
"We hope that efforts to gain support through the second option can be made as agreed as the PN government administration is clearly causing damage to the country's institutions and finances.
"Given that the options have been discussed and agreed upon for consideration, if option one fails to obtain adequate support, it is hoped that PKR will return to the decision of the May 30, 2020 Presidential Council chaired by Datuk Seri Anwar Ibrahim himself, by accepting the second option," the DAP and Amanah said in a statement signed by the Director of Communications, Khalid Samad and DAP organising secretary Anthony Loke.
In the same statement, DAP and Amanah explained that the first option to nominate Anwar as prime minister only received support of less than 100 MPs.
In fact, the DAP and Amanah also claimed that Anwar failed to get support from the Gabungan Parti Sarawak (GPS) and that the agreed time frame had expired and failed to obtain sufficient support.
"After exhausting all efforts, we find that the first option is only able to get the maximum support of 96 MPs, of which 91 are from Pakatan Harapan (38 PKR, 42 DAP and 11 Amanah) and 5 more including Tun and 4 Bersatu MPs with him.
"Datuk Seri Anwar Ibrahim's last attempt to get GPS support was also unsuccessful and the agreed time frame was over and he failed to get enough support," said DAP and Amanah.
Earlier, the PKR Central Leadership Council (MPP) had decided to reject the proposal to name Dr Mahathir as PH's prime ministerial candidate in the event PH was to form the government again.


[ad_2]
Source link