[ad_1]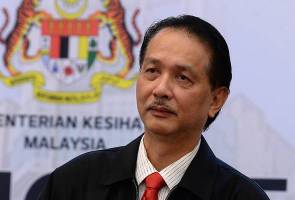 PUTRAJAYA
: A total of 63 COVID-19 positive cases have recovered and allowed to be discharged from the hospital on Friday, bringing the cumulative total of recovery cases to 5,859.
That number represents 82.1 per cent of the total number of cases, said Director-General of Health, Datuk Dr Noor Hisham Abdullah.
He added that 78 new cases of COVID-19 were reported as of Friday.
"The number of positive COVID-19 cases in Malaysia to date is 7,137 cases and the number of active cases with COVID-19 infectivity is 1,163 cases.
"Of the 78 new cases reported, 25 were imported cases of overseas infections.
"Out of 53 cases of local transmission, 40 cases were non-Malaysian and 25 were detected at the Immigration Depot Facility (DTI) in Bukit Jalil," he said at a daily press conference here on Friday.
To date, nine COVID-19 positive patients are being treated in the intensive care unit (ICU) with five of them in need of respiratory aid.
From the latest information reported by the National Crisis Preparedness and Emergency Response Centre (CPRC), there was an additional case of COVID-19 related death.
Therefore, he said the cumulative number of COVID-19 deaths in Malaysia was 115 cases or the equivalent of 1.61 per cent of the total number of cases.
"The 115th death (Case 3,616) was a 65-year-old Malaysian citizen with a background in diabetes, hypertension and kidney disease.


[ad_2]
Source link