[ad_1]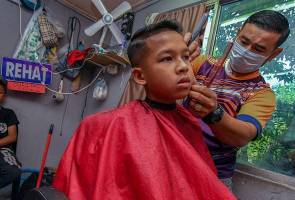 PUTRAJAYA
: The price of a haircut across the country is expected to increase between RM3 and RM10 as barber shops and hairdressers have to cover operating costs as soon as they start operating on June 10.
Malaysian Bumiputera Barbers Association (MBBA) president T.N Winda Mohd Tahir said it was following the implementation of the new standard operating procedure (SOP) announced by the government today.
He said the increase in costs was unavoidable for the safety of customers, besides ensuring the sustainability of the industry that had been banned for nearly three months since the implementation of the Movement Control Order (MCO) on March 18.
The new price list is expected to be announced over the next few days by associations and barber shop owners throughout the country.
"For us in the barber and hair salon association, there have been discussions on a new price list, taking into account the SOP.
"So I expect that we will have to raise the price of a haircut in light of the extra costs we have to bear, with an estimated price increase of between RM3 and RM10," he said when contacted by Astro AWANI on Saturday.
He said the current price for a haircut was about RM10 to RM15 for shops in rural areas while RM20 to RM25 for shops in the city.
"So, I'm assuming the price increase is between RM3 and RM10 to go with the SOP for the safety of our customers.
"With this, the industry can operate well and the public gets the service they expected," he said.
Earlier today, Senior Minister (Security Cluster) Datuk Seri Ismail Sabri Yaakob had announced barber shops, hairdressing and beauty salons were allowed to reopen business from June 10 with strict SOPs for the safety of customers.
Among others, operators need to provide a different disposable apron for each customer and cannot use a shared towel besides workers were required to wear face masks, disposable aprons and different gloves for each customer.
Operators were also required to ensure that the distance between each seat is at least two meters.


[ad_2]
Source link