[ad_1]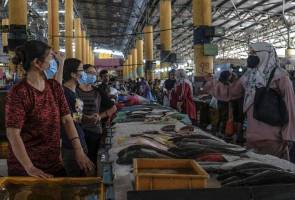 KUALA LUMPUR
: Today, the Conditional Movement Control Order (CMCO) will be implemented with almost all economic and business sectors allowed to reopen, subject to conditions and standard operating procedures (SOPs) set by the authorities.
Prime Minister Tan Sri Muhyiddin Yassin, in a special address on May 1, had said that the enforcement of the CMCO was in line with the country's success in meeting the requirements and best practices determined by the World Health Organisation (WHO) to contain the COVID-19 pandemic.
The CMCO will see workers returning to their offices, restaurants and other businesses resuming operations, and the public taking part in their usual activities like jogging.
On social media, there has been a debate on the easing of restrictions, with some claiming that the government was hasty in implementing the CMCO and was bowing to pressure from the business community.
This was viewed against the low level of awareness among some Malaysians who were still taking the fourth phase of the Movement Control Order (MCO) lightly by leaving their homes without a valid reason while efforts to curb the spread of the coronavirus were going full steam.
However, Health director-general Datuk Dr Noor Hisham Abdullah yesterday said the main objective of phases one, two and three of the MCO was to flatten the COVID-19 curve, which Malaysia has succeeded in doing.
Now, the country will need new strategies, namely better discipline and social responsibility to bring COVID-19 under further control without causing more damage to the economy.
Senior Minister (Security Cluster) Datuk Seri Ismail Sabri Yaakob, in his daily press conference, also said it was impossible for the government to prolong the implementation of the MCO as the coronavirus threat would be around for some time.
He said the easing of the MCO was to revive business operations, including of petty traders who have lost their sources of income since the MCO came into force on March 18.
This clearly shows that the economic demands were pressing but it does not mean the government was giving priority to livelihood over lives. The government has done its best to contain the spread of COVID-19.
For sure, the government had carefully considered all aspects, including scientific data, expert advice and guidelines from WHO before deciding to implement the CMCO nationwide.
Therefore, the public should appreciate the relaxation of the MCO by adhering to SOPs and not taking any instructions lightly as non-compliance could result in a surge of COVID-19 infections.
It is hoped today will mark a new beginning, where the people will embrace the new normal of conducting business and daily lives like practising social distancing, frequently washing their hands with soap and water, and wearing face masks in public.
A new balance has to be struck between efforts to heal the country's economy and to curb the spread of the deadly coronavirus.
— BERNAMA


[ad_2]
Source link