[ad_1]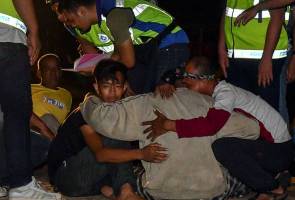 KOTA BHARU
: "I received a text message from my husband at 7.35 pm yesterday saying that he would be leaving for home early in the morning," said Rosmaliza Rosdin, 43, wife of one of the victims who was onboard a boat which capsized off the Kuala Kemasin Base Jetty here last night.
The distraught widow of Mohd Syafizan Daud, also 43, said she was expecting him home in the afternoon and could not believe that the fishing trip which her husband had been looking forward to, would end in tragedy.
"I learned that the boat had capsized through a WhatsApp message from a friend," she said when met at the Raja Perempuan Zainab II Hospital (HRPZ II) Forensic Unit here today.
Meanwhile, Wan Mohd Tajuddin Wan Hussin, 53, the younger brother of another victim Wan Aminuddin Wan Hussin, 63, said after a long period of not going fishing, his brother was excited to do so again with his friends.
"There was nothing strange in him, except that he returned home twice on the day of the trip, first to get his mobile phone and later for his cigarettes," he said, adding that he would miss his eldest sibling dearly and has accepted his death as fate.
Meanwhile, HRPZ II director Datuk Dr Selasawati Ghazali when contacted said, eight of the 12 who survived the tragedy, received outpatient treatment before they were allowed to return home.
"The rest are still receiving treatment and being monitored in the hospital," he said.
Yesterday, a boat carrying 20 people including the skipper and crew aged between 18 and 60 years, capsized following a storm about 10 nautical miles from the Kuala Kemasin Base Jetty.
In the 8pm incident, four of them were found drowned, four still missing and another 12 were confirmed to be safe.
The dead victims were identified as Mohd Syahrizan Daud, in his 40, Muhamad Zaki Muhamad Nordin, 19, Wan Aminudin Wan Hussin, in his 60s and a Thai citizen known only as Pokta, in his 50s.
The four still missing are Arman Ismail, 43, Harun Daud, in his 60s, Syafiq Abdul Halim, 30 and Che Wadi Bakar, in his 40s.
— BERNAMA


[ad_2]
Source link