[ad_1]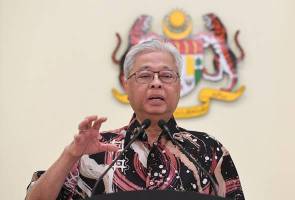 PUTRAJAYA
: The daily press conference on the implementation of the Movement Control Order (MCO) will be held only three times a week starting next week.
Senior Minister (Security Cluster), Datuk Seri Ismail Sabri Yaakob said the press conference would be held on Mondays, Wednesdays and Fridays.
"Today is the last day of my daily live broadcast and today is the last day of the weekend broadcast.
"Starting next week, the press conference will be held three times a week, which is on Monday, Wednesday and Friday only," he said.
He also joked with reporters and the audience about the batik shirts he wore every weekend.
"Maybe after this, there will be no more colourful batiks that has been the basis for your cakes and drinks," he said.
Ismail Sabri expressed his appreciation to all parties in the fight against COVID-19, especially the frontline personnel who worked tirelessly.
He also recorded his special thanks to the media practitioners who have been delivering accurate reports to the people every day for the past three months.
"To all Malaysians who obey the rules and the SOP all the time, I thank you for your cooperation and support," he said.


[ad_2]
Source link