[ad_1]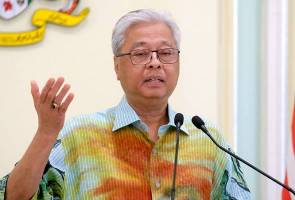 PUTRAJAYA
: The police have arrested 156 individuals for breaching the Standard Operating Procedure (SOP) of the Conditional Movement Control Order (CMCO) as of May 18, 2020, said Senior Minister (Security Cluster) Datuk Seri Ismail Sabri Yaakob.
He said the PDRM-led Compliance Operations Task Force conducted 69,797 inspections on Sunday to monitor and enforce the CMCO 's SOP compliance nationwide.
"A total of 4,914 supermarkets, 5,044 restaurants, 8,004 hawkers, 1,109 factories and 3,354 banks were inspected.
"Inspections have also been conducted on 1,091 land transport terminals, 190 water transport terminals and 90 air transport terminals," he said during his daily press conference here on Monday.
In addition, he said the authorities had also inspected 24,639 private vehicles, 2130 public vehicles and 402 vessels.
"Also examined were 2,474 public markets, 4,048 places of worship, 1,349 recreational areas and 391 construction sites.
"A total of 3,498 Compliance Teams conducted surveillance and involved 18,856 members.
"Also participating in the monitoring was the APAD Land Public Transport Agency," he said.
In the meantime, the Public Sanitation Ops under the Ministry of Housing and Local Government (KPKT) since March 30, 2020 has conducted 6,548 sanitation operations including 78 yellow and red zones.
A total of 10,157 Government premises, business premises and public areas were sanitised.
A total of 57 sanitation operations covered 21 red and yellow zones in 14 states, including 14 in Johor, 13 in Sabah, 7 in Kedah and 5 in Melaka.


[ad_2]
Source link