[ad_1]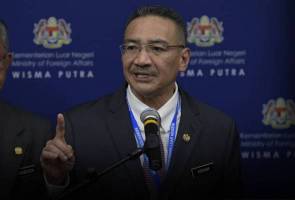 PUTRAJAYA
: Wisma Putra has identified all 11 Malaysians abroad infected with COVID-19.
Foreign Minister, Datuk Seri Hishammuddin Tun Hussein, said the number involved nine Malaysians in Singapore.
Of the nine, two have been discharged while seven were still being treated in the neighboring country.
He said, the other two were Malaysians in Japan who had returned home.
According to Hishammuddin, Wisma Putra through the Malaysian embassies had also regularly updated the records of Malaysians in countries affected by COVID-19.
"We want to emphasise to Malaysians in these countries, please register with the embassy so that we can monitor them and provide them assistance.
"Don't wait until the last moment to seek help from Wisma Putra but please register early with them.
"That's why it is important for them to be responsible enough by registering at our embassies," he said during a press conference on the development of Malaysians abroad infected with COVID-19, here today.
Meanwhile, Hishammuddin said his deputy, Datuk Kamaruddin Jaffar, is leading the taskforce in Wisma Putra, which was tasked with closely examining the developments of Malaysians abroad.
He said reports from the special task force would be made available to the people from time to time.
There are 14,929 Malaysians in China, the country most affected by the outbreak, who have registered themselves with Wisma Putra.
In Korea and Italy, the other two worst affected countries, there are 4,297 and 380 Malaysians respectively.


[ad_2]
Source link